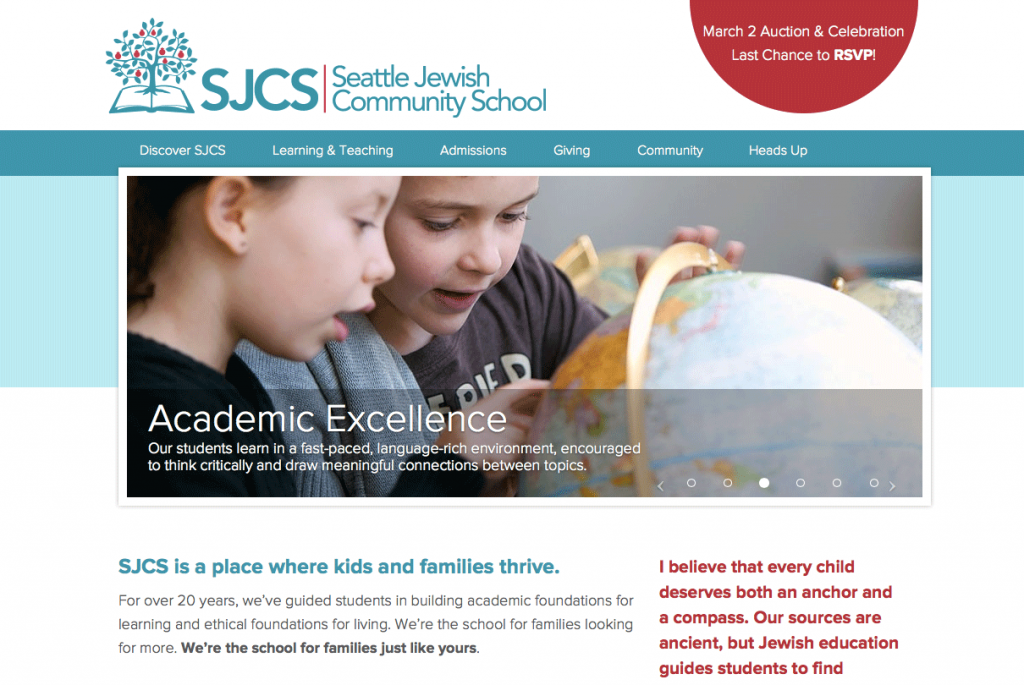 Sample website design by Blank Space.
SJCS New Website Design
The Seattle Jewish Community School (SJCS) is a K-5 Jewish Day School in North Seattle. At SJCS, dereh eretz ("the way of kindness") is as real as textbooks and iPads. Everything they do and teach ties back to relationships, community, and environment. The graduates of SJCS care deeply about creating positive change in the world.
We were introduced to the SJCS over a cold call back in 2008. Over the years we have worked with SJCS on various projects, from annual reports, to an interactive Tz'dakah caterpillar installation, to school murals. Most recently, SJCS hired Blank Space to a design and develop a new website.
SJCS needed a website overhaul to accurately present the school's values and dedication to Jewish life. Real photos of students portray real life experiences that are happening at SJCS. Their authentic photography shows students having fun while learning and connecting with their classmates.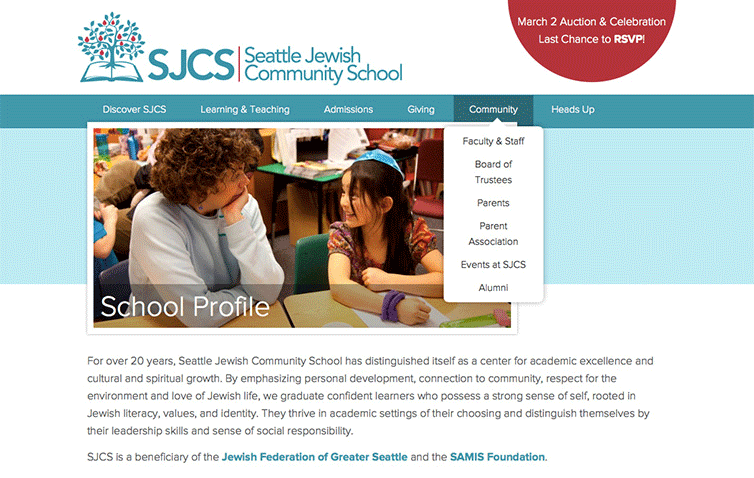 Customized Website Content and Responsive Design
The site enables teachers and staff to start password protected class blogs and create unique calendar events. Each blog post is conveniently automated to send out as a weekly newsletter to parents subscribed to the class blog. This simplifies teacher communication and keeps parents updated.
We designed and developed an engaging website that is compatible across platforms. The responsive design delivers a beautiful portrait of SJCS on desktops, tablets, and smartphones.
We have enjoyed watching SJCS flourish over the years. They make Jewish learning and living easily accessible. SJCS offers fun summer camps and creates community programs like Jewish Junction. We are happy to help them create a new website that shows kids and families thriving at SJCS.
SJCS.net