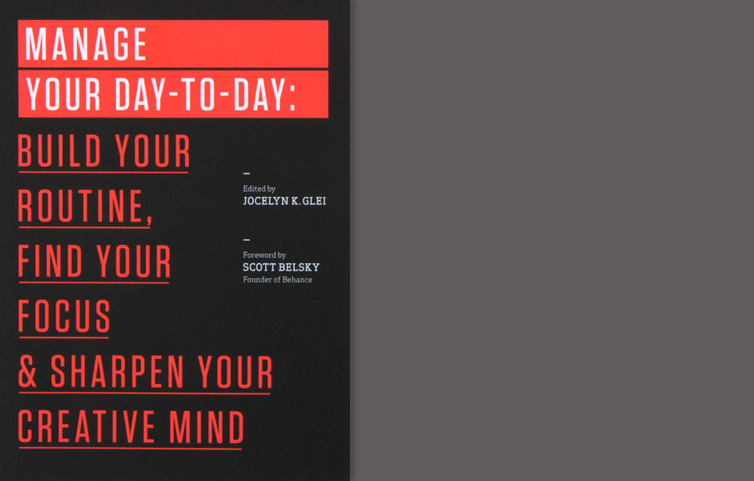 "Only by taking charge of your day-to-day can you truly make an impact in what matters most to you. I urge you to build a better routine by stepping outside of it, find your focus by rising above the constant cacophony, and sharpen your creative prowess by analyzing what really matters most when it comes to making your ideas happen."
—Scott Belsky, Founder of Behance

Are you feeling what Europeans call burnout? Finding yourself not getting enough accomplished? Or is your to-do list out of control? Reading this book will help you gain some perspective. It encourages you to take a step back and evaluate your productivity, your mindfulness, and delivers tips on how to work smarter.
The book, Manage Your Day-to-Day: Build Your Routine, Find Your Focus, and Sharpen Your Creative Mind (The 99U Book Series), is a compilation of essays from the rock stars of creativity—who are just people who have learned how to work hard towards achieving their dreams. Each essay offers useful insights. They are not terribly in-depth, but a quick read to help you ponder your own system of productivity. Some may strike you more than others. We are all different. We all need different strategies to bring about the best versions of ourselves. Seth Godin's essay says:
The strategy is simple, I think. The strategy is to have a practice, and what it means to have a practice is to regularly and reliably do the work in a habitual way.
The notion that I do my work here, now, like this, even when I do not feel like it, and especially when I do not feel like it, is very important. Because lots and lots of people are creative when they feel like it, but you are only going to become a professional if you do it when you don't feel like it. And that emotional waiver is why this is your work and not your hobby.
The book is directed at creative types. But doesn't all work contain some need for creativity? The insights in Manage Your Day-To-Day are applicable to anyone who works regularly, especially those of us who work at a desk or a computer. I think people working in the arts have a harder time with routine. I know I have always struggled with keeping a consistent schedule, which is something I have been striving for since our return from Europe. The insights in this book give me even more reasons and inspiration to be more structured with my time.
As adults—especially as entrepreneurs, business owners, and freelancers—we have complete control over how we choose to manage our time. Instead of embracing this control we use our time by responding and reacting to whatever comes our way: emails, client emergencies, facebook alerts, text messages, and whatever else demands our attention. The idea behind this book is to give the reader a toolkit for tackling the challenges of living in a work-world that is always on. We are always connected. Let's all learn to work proactively, and focus our time on what really matters to us. Don't let the little things suck away your potential to do big things.
One of the book's most compelling points comes from Gretchen Rubin (author of The Happiness Project: Or, Why I Spent a Year Trying to Sing in the Morning, Clean My Closets, Fight Right, Read Aristotle, and Generally Have More Fun) who states that frequency is the secret to creative accomplishments. Here are some excerpts from her essay titled "Harnessing the Power of Frequency:"
We tend to overestimate what we can do in a short period, and underestimate what we can do over a long period, provided we work slowly and consistently. Anthony Trollope, the nineteenth-century writer who managed to be a prolific novelist while also revolutionizing the British postal system, observed, "A small daily task, if it be really daily, will beat the labors of a spasmodic Hercules." Over the long run, the unglamorous habit of frequency fosters both productivity and creativity.
When you work regularly, inspiration strikes regularly.
Step by step, you make your way forward. That's why practices such as daily writing exercises or keeping a daily blog can be so helpful. You see yourself do the work, which shows you that you can do the work. Progress is reassuring and inspiring; panic and then despair set in when you find yourself getting nothing done day after day. One of the painful ironies of work life is that the anxiety of procrastination often makes people even less likely to buckle down in the future.
I have never thought about it that way, but how true. Just as work breeds more work, procrastination breeds more procrastination.
The book also speaks to the importance of unplugging, allowing time for walks and to daydream, to reconnect with nature, to get a good nights sleep, and to set time aside to make our own projects that are not client-driven. All of this is important in attaining a healthy life-work balance.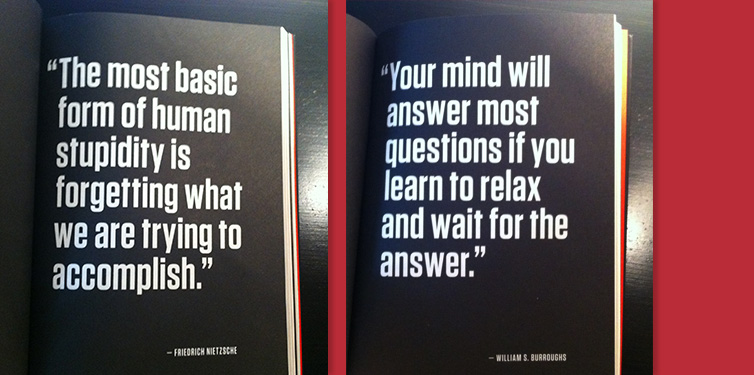 It is a beautiful book, clean design with large quotes inserted between each essay. The essays are short enough to finish one or two whenever you need a break. I know another distraction right? But it can be good to switch tasks, to let your mind ponder your current work challenges quietly in the background.
What tricks do you use to help yourself work even when you don't feel like it? Do you disconnect regularly to allow yourself time to recharge?
This is the 1st book in the 99U book series. The 2nd is: Maximize Your Potential: Grow Your Expertise, Take Bold Risks & Build an Incredible Career. The 3rd is Make Your Mark.
Good luck with finding and shaping your own creative routine and mastering your personal productivity!